FAST CARBON HIGH CUT HELMET SYSTEM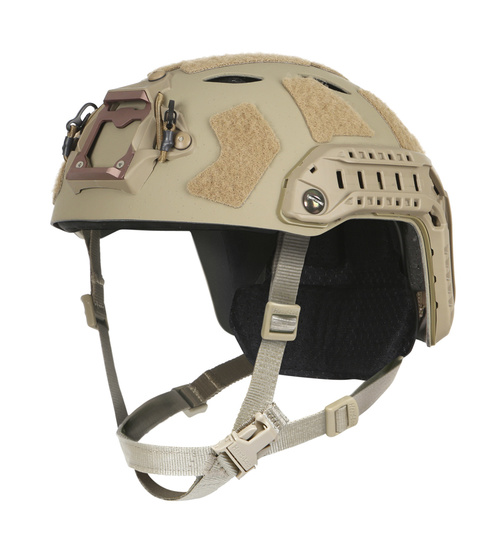 Réf. FAST SF CARBON CARBON
Description
High cut, lightweight, non-ballistic shell features a hybrid design of Uni-Directional and Woven Composite Carbon Fibers.
Designed for less extreme environments, the durable carbon construction provides protection against blunt trauma, making it ideal for rugged training, recee and water operations, and fast roping.
Features an Ops-Core Skeleton™ Shroud for universal compatibility with most NVG mounts, 4 position Accessory Rail Connectors (ARCs) and external Velcro loop.
Vent holes for increased ventilation and water drainage.
Available with one suspension/retention option.
Available colors : noir, urban tan, foliage green, multicam ou desert marpat.
Specifications :
Impact Testing: Anvil x2 Impact @ 10 fps (3.04 m/s) , 150 Gs
Environmental Testing: Low Temp/High Temp/Sea Water/Corrosion/Flame
Shell Construction: Two-stage Process: Six-Slit
Areal Density: N/A
Shell Thickness: 0.079" (2.00 mm)
Shell Geometry (Curvature): FAST Curvature
Cut Style (Side Protection): High cut
| | | | | |
| --- | --- | --- | --- | --- |
| Avalaible sizes | M | L | XL | XXL |
| Head size (circumference) | 53-56cm | 56-59cm | 59-62cm | / |
| Square coverage | 988cm² | 1063cm² | 1157cm² | / |
| Shell Weight | 0.60 lbs (271g) | 0.65lbs (297g) | 0.73 lbs (332g) | / |
Note: All measurements are +/- 3% tolerance